Yes, I know, I said the next post was going to feature new dresses. Well, is one new dress okay? I won't even ask you to pay for it.
Just go
to the main store
and click the board; I'm trying out a new thing. Somewhere in my inventory, I have a lucky board, too, and I can likely get that out and stocked, if I can figure out the instructions. (The manual's in Japanese, it makes it tricky.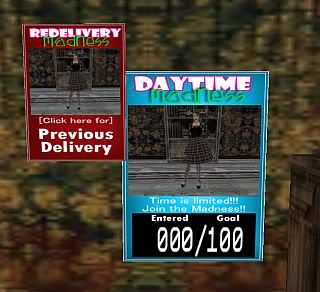 I'm starting out with something I never put out for the winter season. The Warm Cocoa frock is a lovely marshmallow/chocolate plaid, with self-stockings, two different skirts, gloves, and separate corset, all on multiple layers. And, since it was my mistake not getting it out for sale last winter, you can benefit from this. Just go tap the board, and if there's a hundred of you that do so, everyone gets a copy!
You can just keep it in your closet until fall rolls around. Really, it's too hot to wear now.